Our Museum: Classic Cars
Museum Open May through October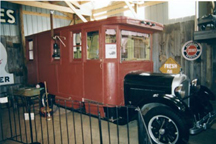 Our Museum is open May-October, Our hours are Monday-Friday 9AM- 6PM Saturday 9AM-4PM, Sunday by appointment. The Antique Car Lot is open the same hours year around, but you should call ahead during the winter months to make sure someone will be there. (Remember, Mother Nature!) We are located on South Highway 79, South of Rapid City, South Dakota. We hope you will come to visit us! Bring your camera!
Visiting our Museum is truly like a trip back in time. When you drive into the parking lot, you will see a Genuine Antique and Classic Car Lot, where you can look at 75 to 100 vehicles for sale. (Check out our Inventory of Vehicles Page).
Our admission price is ONLY $5.00 and that even includes the tax. Children under 12 Are Free With An Adult Admission! Plus your paid admission is good for the whole season from May to October, So You Can Come Back As Many Times During The Season As You Would Like! Bring Your Friends With You! What A Deal!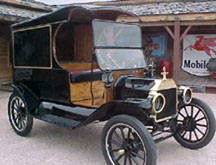 You will then enter through the swinging gate into our 13,000 square feet of beautifully displayed cars, pickups, sedans, coupes convertibles, motorcycles, toys, pedal cars, bicycles, spotlessly cleaned, plus one of a kind vehicles you won't see anywhere else. You will also be greeted with sights you may remember from your childhood, or in some cases, the Juvenile Delinquent Stage of Growing up. Check out the life-sized replica of James Dean who is casually watching over Bill and Peggy's Model A, Hemi Powered genuine 50's Hot Rod Roadster that is driven nearly every day. You'll also notice that there are showcases full of toys. (Don't forget to check out the Toys and Pedal Car Page) From the floor to the ceiling you will see neat signs, pictures, gas pumps, more toys and pedal cars, all very tastefully displayed. On display are mannequins dressed in clothing from the 1800s to the 1960s throughout the museum. Entering the antique car room the first car you will see is the very rare 1934 Studebaker Dictator 3 window coupe. From the 1936 Ford Coupe to the 1927 Dodge Rumble Seat Coupe, to the 1938 Lincoln Zephyr V-12 (3) window coupe, you will be delighted that you came to Motion Unlimited Museum. Once in a while you will get to meet and talk to the power behind our Museum, (Bill Napoli), an ageless workaholic who has to live to be at least 229 years old to get all the projects he's building finished, plus all those that he's always wanted to build.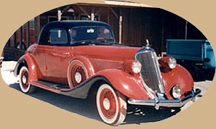 As you enter through the walkway, to enter the Classic Car Building, you will see more pictures, signs, gas pumps, and a display of 1930's and 40's engine testing equipment, a large collection of collectable oil cans, and NOS (new old stock) items to repair your car. Again you will be amazed at the vast collection of beautifully displayed cars, gas pumps, signs, toys, pedal cars, old model cars, most still in their original boxes, that are on display. You name it and it's probably there. When you see the WW II Airplane Car, it will stop you in your tracks. It truly is a one of a kind vehicle. The predominant theme in the Classic Car Building is GM Cars. Well, we do have some other makes, yes Fords Too!, like our radically customized 1956 Big Window Ford Pickup, to our 1932 Ford A/Gas Antique Drag Car very nicely displayed with antique race car parts. You'll see Chevy's from 1955 through 1960, including El Caminos, Hardtops, and our recent completely restored Red 1960 Impala Convertible. Above on the mezzanine, you'll see dozens of pedal cars, and motorcycles which include the early Japanese Bikes, like Honda, Yamaha, and Suzuki, from the early '60s. Please check out our (Motorcycle Page) for the rest of your sneak peek of our collection.